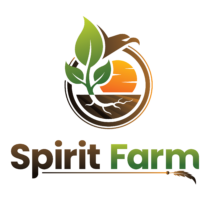 Since 2014, we have been developing a model farm that heals soil with the intentional use of microbiology and composting. Our goal is teach a sustainable way of life through organic farming and food preservation to the local Navajo and Zuni tribal communities. The anticipated result is better health outcomes, both in the short and long terms, for our Native Americans and surrounding communities.
Spirit Farm is a demonstration farm that uses only natural practices including microbiological composting, to heal the high desert southwestern soil and be a living example of how we can recover and reclaim traditional farming and spiritual practices, along with modern practices, to establish resiliency in our way of life, reducing the dependency on the very food system that is harming us. The farm provides visual models and discussion opportunities with growers of methods that can increase the quantity and quality of their produce, as well as use less water, which is a critical step when growing food in our climate.
Our vision for healing the soil is to improve health of Native peoples and Mother Earth by using cultural traditions that change people's attitudes and actions with regard to food and soil. Engaging people in the production of their own food supply and connecting it to their cultural traditions and Mother Earth elevates farming to a spiritual/cultural practice. When we heal the land, we heal the people. 
One out of every five Navajo adults are diagnosed with Type 2 diabetes, and one out of every two children is estimated to develop Type 2 diabetes within their lifetime. There is an inextricable link between the impacts of colonization across Navajo Nation and poor (physical, mental and spiritual) health outcomes. The Covid-19 pandemic shed more light on the discrepancy. Eating more organic, nutrient-dense fruits and vegetables can help reduce the risk of many chronic diseases including Type 2 diabetes and cancer.
Our farm supports local farms and growers through training and mentorship as well as tangible resources such as chicks, water containment vessels, seed and compost. Our primary expected outcome is to have Native families begin growing their own food again. 
We exists as a resource and hub in the community. Our farm is a place to welcome and attract Native families interested in growing food. The on-going tours on the farm have been a tool to generate discussions about soil microbiology, cultural traditions and the development of nutrient dense food products. Each year we hold classes on the soil microbiology and compost, assist interested tribal members with their gardens, as well as employ tribal members to learn and work at the farm. Access to fresh food like eggs, chickens, and vegetables will improve overall nutritional and contribute to better health outcomes. 
Our approach with healing the soil is significantly different from conventional approaches because it contains both practical application and cultural/ritual context. Animal husbandry, composting, and farming have not been a common practice for a few generations. Navajo rituals are connected to farming, but have become disconnected from the way the people in these communities live. Reintroducing these practices will only take hold if they are rooted in a cultural worldview. It also provides opportunities that creates long-term systemic impact by bringing lifestyle and world view into alignment. People will have an increased sense of purpose, validation, and well-being. Because it aligns with their world view, rituals, and beliefs, the changes in lifestyle will be easier to sustain.
At Spirit Farm, we apply ancestral Indigenous wisdom while integrating creative solutions energized by nature. Our farm provides experience and training to grow nutrient-rich foods in the southwestern high desert of New Mexico.